Laser Therapy in Willmar MN
Introducing Our Latest Addition to Helping You Overcome Pain!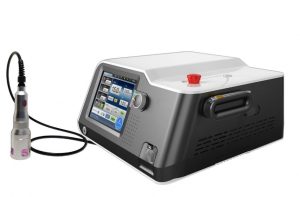 Class IV High Power Laser Therapy
New Treatment Options With High Power Laser Therapy (HPLT)- Medical lasers are creating a new non-invasive option for pain management. Patients can experience relief with a series of treatments that use emissions of light to stimulate cell healing and rejuvenation. Laser therapy at Linden Chiropractic Clinic is a safe, pain free treatment that only takes a few minutes per visit.
Conditions such as head, neck and back pain (stenosis, disc herniation and sciatica), arthritis, carpal tunnel syndrome, foot and heel pain, ligament and tendon injuries and muscle bruising, Surgery recovery, (just to name a few), all respond well to HPLT.
The mechanism of action for laser therapy comes from its ability at the cellular level to "bio-stimulate" tissue growth and repair. This results in accelerated wound healing as well as a dramatic decrease in pain, inflammation, and scar tissue formation. Unlike all other treatment modalities, laser therapy actually "heals" tissue as well as providing a powerful non-addictive form of pain management.
We are now using High Power Laser Therapy in conjunction with our Spinal Decompression Therapy to further enhance patient outcomes! Plus, it has been an effective form of treatment for many other conditions.
OFFICE HOURS
---
Monday
8:00am - 6:00pm
---
Tuesday
By Appointment
---
Wednesday
8:00am - 6:00pm
---
Thursday
2:00pm - 6:00pm
---
Friday
8:00am - 12:00pm
---
Saturday
Closed
---
Sunday
Closed
---
Weight Loss by Appointment
Tuesday & Thursday